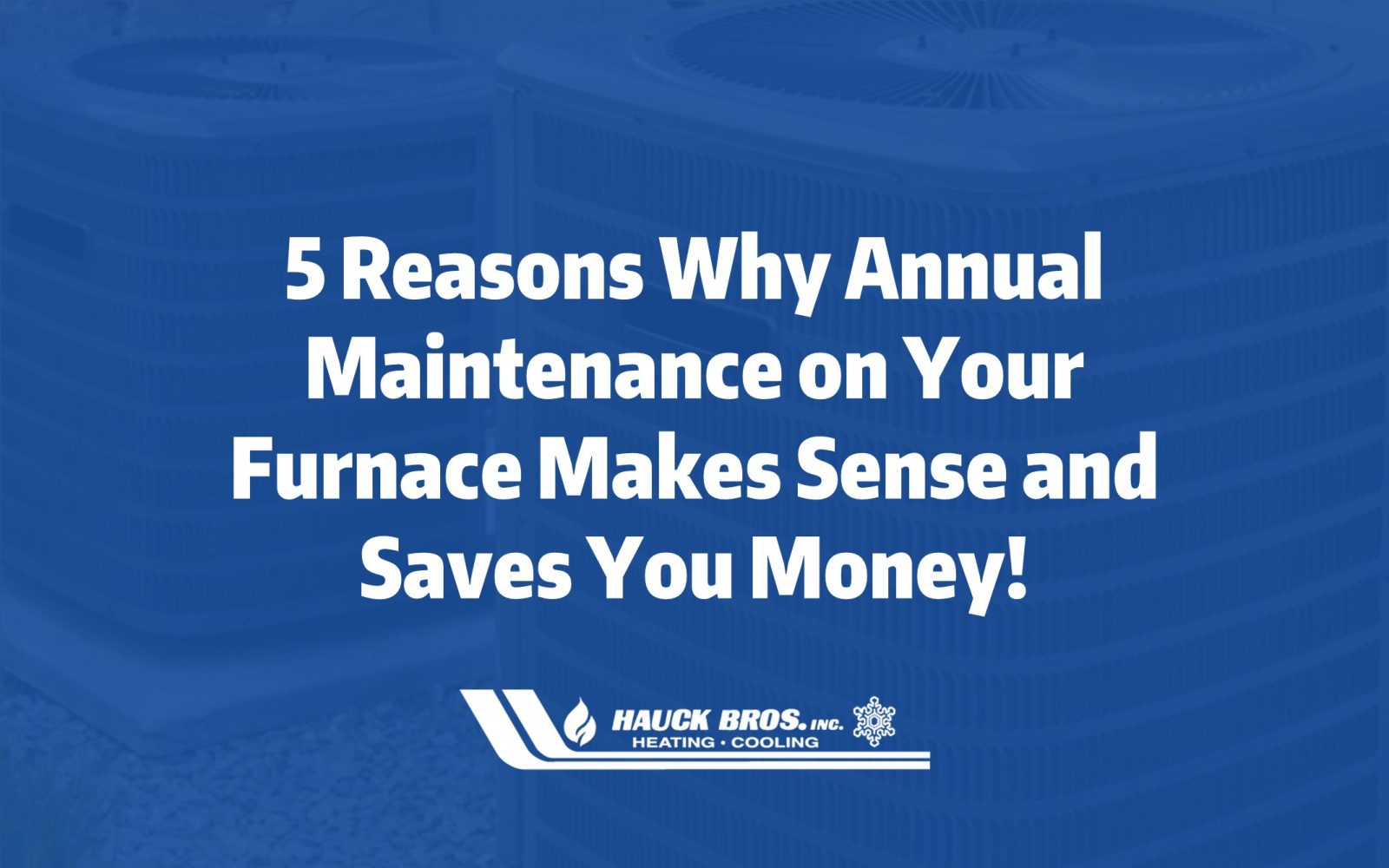 At Hauck Bros., Inc, we are in the business of customer service and building relationships with our clients. We focus on service over new sales because not every repair means it is time for a new furnace, heat pump, or air conditioner. According to Consumer Reports, with proper professional annual maintenance, furnaces typically last up to 18 years. We focus on those 18 years and how to make your furnace last as long as possible.  We want you to be comfortable, have a healthy indoor environment, and have your HVAC units operate as efficiently as possible.  Next month, we will go into more detail about our Home Comfort Protection Plans and the differences in each plan.  This month I will focus on why having annual maintenance makes financial and logical sense and what you can do as a homeowner or business to help maintain the lifespan of your HVAC equipment. From ACCA, Standard 4, "Conducting regularly scheduled inspections, maintenance, and remediation of HVAC systems prolongs equipment efficiency, promotes healthy clean air, supports lower utility costs, guards against unexpected failures, and prolongs equipment life. Occupants and the environment will both benefit."
Yearly Maintenance Benefits in Detail
Some manufacturers warranties require them to keep their warranty valid.
All manufacturers recommend annual inspections and maintenance be done by a qualified licensed professional. This is to ensure that their product is always at peak performance and to make sure only well-trained technicians are working on their product.  In short, with proper maintenance the manufacturer can guarantee their product for the life of the warranty.
Having annual maintenance by the same servicer gives the client a history of each unit to rely on for recommendations and analysis.
At Hauck Bros. we keep records of your equipment history including maintenance and repair history for you as long as you are at your address. We use these histories to make recommendations on repairs and even replacements when the time comes for it. If you are selling your house, you can tell the new homeowner that Hauck Bros. has serviced your unit since you have had it and they have all the records of everything that has occurred with your HVAC system.
Ensures your furnace maintains its peak efficiency.
When do some people call for service on their furnace? When they get a bill that is 2-3 times or more than their normal heating bill.  Having yearly maintenance on your furnace will ensure it is in peak condition and hopefully avoid costly wear and tear damage that may impact your furnace's efficiency.
Promotes healthy air.
Part of the annual maintenance is making sure to address parts of your HVAC system that affect indoor air quality.  The filter should be changed regularly, the blower wheel should be inspected, drains and traps should be cleaned, the intake and exhaust should be inspected, the indoor coil should be cleaned, should check for gas leaks. These are just some tasks that should be performed annually. They ensure your safety and ensure your system is operating in a way that improves the indoor air quality.
Annual maintenance can prolong your furnace lifespan.
Minor problems are caught and repaired before they become big problems. Big problems can be caught before they become catastrophic problems. From the heat exchanger to control board to the filter, every aspect of your furnace is checked, tested, or inspected, this ensures there can be no doubt your furnace is in top shape for the upcoming heating season and for years to come.
What can you do yourself?
Make sure to inspect, clean, and/or change your air filters once a month
Listen to your system while it's operating. If you hear unusual noises or vibrations, it might indicate a problem with your furnace
Smell. If you smell gas, call the gas company immediately.
Install alarms. Carbon Monoxide detectors are mandatory with fossil fuel furnaces. Install a water/freeze leak detector. This ensures if there is a backup of water or if it freezes you will be alerted immediately.
Make sure all supply and return ducts are obstacle free and clear of debris.
For fossil fuel furnaces, make sure the exhaust flue is clear of obstacles, debris, and nests.
Make sure to not store flammable objects around the furnace.
Make sure that only Licensed, Qualified, or if possible, Certified Professionals perform maintenance on your furnace.
How does having an annual maintenance agreement save me money?
With all of our Home Comfort Protection Plans, you receive a discount on any repairs.
With all of our plans there is never a charge for service call.
Our Gold and Platinum plans include the price of the filter once per year.
Our Gold and Platinum plans include the price of cleaning coils.
Our Gold and Platinum plans feature a Purchase Accrual credit that accrues each year. This Accrual is used towards the purchase of new equipment when the time comes.
By catching small problems before they become bigger problems, the repair costs by comparison would be lower.
At Hauck Bros., Inc. we feature Silver, Gold, and Platinum Home Comfort Protection Plans (HCPP), starting as low as $21 per month. Our Gold and Platinum HCPP meets Energy Star® Recommendations for annual service . Out Platinum HCPP meets ACCA, Standard 4 recommendations. Contact us via e-mail, phone, or in person to learn more.