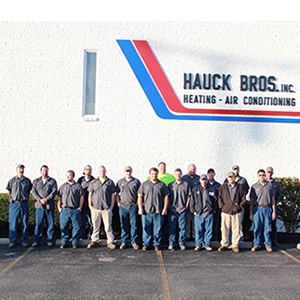 History of Hauck Bros., Inc.
Hauck Bros., Inc. was founded in 1921 as a roofing and sheet metal contractor. The company operated out of a building in Springfield, Ohio on South Center Street, very near where the Springfield City Area Transit facility is now located. The company was owned and operated by the Hauck Family until 1974, when it was purchased by one of the company's employees, Norm Simon. He renamed the company "Norm Simon's Hauck Bros." and operated it for nearly 13 years. In that time, he grew the company to about 14 employees, relocated it from the West First Street location (former Lehman's Cleaners) to Commerce Circle and introduced the company to light commercial installation and service.
In 1987, Hauck Bros. was purchased by a local businessman, Bob Warren. He changed the name of the company back to "Hauck Bros.", and began the process of growing the company with the goal of having the best HVAC company in the area. In his 20 years, he has expanded the number of employees to almost 40 and has significantly grown the company in that time. He was one of the first local contractors to introduce customers to "flat-rate" service pricing and Home Comfort Protection Plans, allowing them a convenient and competitive service experience. Since 1958, Hauck Bros. has been, and continues to be, Clark County Ohio's exclusive Bryant equipment dealer. In 2006, Hauck's was awarded the highly coveted Bryant Factory Authorized Dealer (FAD) status, of which there are only a few in our 5 county area. Hauck Bros. has also won numerous outstanding sales awards for high efficiency furnace, air conditioner and accessory sales in the entire Southwest Ohio sales territory. Hauck Bros. also employs many technicians and installers that are NATE (North American Technician Excellence) –certified, showing the company's commitment to technician excellence. Hauck Bros. specializes in high efficiency residential installations, design-build commercial and industrial work, complete with full-service design capabilities and superb service after the sale.
Hauck Bros. also has an impressive list of local commercial customers and businesses including over 40 churches, hundreds of professional offices, as well as custom home builders and local condominium/apartment developers. Some large commercial projects we have completed include the Creekside Condominiums in Enon, the Champions Center & Arena at the Clark County Fairgrounds, the restoration of Frank Lloyd Wright's Westcott House, the Rocking Horse Center, a complete HVAC renovation at St. Teresa Catholic Church, the educational facility at Oesterlen Services for Youth, Northside Baptist Church's sanctuary addition, Spectrajet, MEVA Formworks, Grace Lutheran Church, Richwood Bank, Heroux Devtek Landing Gear, Dunham Sports, Security National Bank, Hot Head Burritos, the Upper Valley Mall, Kenton Ridge High School, DeLille Welding Supplies, Kone Cranes, Bill Marine Honda, Mercy Hospital's Mitchell-Thomas Center, Liberty Nursing Center & a complete modernization of the HVAC systems at The Springfield Country Club .
From the beginning, Hauck Bros. has built its business by offering superior HVAC service, installation and products. We do this with a team of highly trained conscientious employees that are loyal to our valued customer base and are proud of the company's rich history in this area.
History of Bryant
Charles Bryant started a tradition in 1904–one that goes beyond providing outstanding heating and cooling systems–that lives on today. It's about experience, trust, and doing Whatever It Takes to make our neighbors' homes comfortable. Bryant has a rich history in manufacturing quality heating and cooling products. The following timeline outlines some of Bryant's achievements and successes throughout history up through the mid-1980's.
Timeline
1904 – Charles Lester Bryant, with 2 other businessmen, formed the Natural Gas Regulator Co. in Cleveland, OH and manufactured gas regulators to help control the uneven gas pressures that were abundant back then.
1907 – Charley Bryant decides to invent a gas-fired hot water heater to heat homes and forms the Bryant Heater Co.
1908 – After discovering that some people were using up to 8 of his water heaters to heat their homes with hot water, Charley decided to invent the gas-fired hot water boiler. The Bryant Heater & Manufacturing Co. was formed and began to manufacture the first-ever gas-fired cast iron tubular hot water boiler.
1909 - 1931 – Bryant makes many improvements to their line of top-quality boiler products including automatic water & gas safety controls. Bryant also developed a gas-fired gravity furnace and introduced the Bryant "Pup" as its advertising mascot. Bryant reportedly maintained a 60% market share total in the late-1920's for its gas heating equipment making it the largest producer of gas boilers in the country.
1932 – Bryant introduces its first-ever line of gas-fired forced-air furnaces.
1933 – Bryant introduces its first-ever line of gas-fired conversion burners, thus changing the way America heated their homes forever.
1934 - 1940 – The Bryant Heater Company was sold to Dresser Industries and expanded its line of products to include humidifiers, unit heaters and small gas furnaces made for apartments. During this time, the "Pup" became a real Boston Terrier named, "Bryant's Anthony" and resided in Shaker Heights, Ohio.
1941 - 1944 – Bryant curtailed heating production and began manufacturing component parts for the war. They manufactured many suspension and wheel components for the Army, Navy and Airforce.
1945 – Charley Bryant, the "Gas Heat Pioneer" dies at the age of 67 in Cleveland. The Payne Furnace & Supply Co. and the Day & Night Water Heater Co. become wholly-owned subsidiaries of Dresser Industries.
1946 - 1948 – Bryant introduces floor furnaces, oil furnaces and the Range Lyter. Bryant, Payne and Day & Night are acquired by Affiliated Gas Equipment, Inc. (AGE).
1949 – Bryant introduced the, first of its kind, combination heating & cooling unit, thus delivering year-round comfort.
1950 - 1954 – Bryant continues its strong quality manufacturing traditions and introduces several more lines of heating equipment, a gas-fired clothes drier and residential air-cooled air conditioning.
1955 – The Carrier Corporation acquires AGE, thus combining the cooling knowledge of Carrier with the heating knowledge of Bryant, Day & Night and Payne and 2 other, lesser- known companies.
1956 - 1958 - Bryant creates store cooling, opens a new manufacturing, as well as a new research facility in Indianapolis. Bryant celebrates its Golden Anniversary year and reintroduces the Bryant "Pup" in its advertising campaigns. In 1958, Bryant first becomes associated with racing and the Indy 500.
1959 – Bryant produces the first 3-ton gas-fired residential air conditioner. That year 1,349 gas-fired units were shipped.
1960 - 1963 – The residential air conditioning business is booming and outpaces gas heating equipment for the first time, marking a major forward-step in Bryant's growth.
1964 – Bryant builds a new 127,000 square foot Gas Air Conditioning manufacturing plant in Indianapolis exclusively for production of Gas AC units. Bryant also introduced a completely redesigned line of gas boilers available for the first time in 25 different sizes.
1965 - 1971 – Bryant makes many improvements to the air conditioning and heating lines including new smaller gas cooling units, an air cleaner and an expansion of their facilities, including an all-new controls facility.
1972 – Bryant makes a real commitment to commercial HVAC, introducing a full line of rooftop units, accessories and methods of calculating heating/cooling loads in buildings.
1973 - 1975 Carrier Corporation forms the BDP Company by combining Day & Night, Payne Corp. and Bryant Heating into one entity. BDP becomes the largest producer of unitary residential HVAC products in the country.
1976 - 1978 More product improvements including the Vent Mizer vent damper and new AC units.
1979 – United Technologies Corporation acquires Carrier Corporation. Bryant establishes itself as the United state's largest producer of gas air conditioners and warm-air furnaces.
1981 - 1983 – Bryant pioneers one of the first 90%-efficient gas furnaces utilizing variable speed blower technology and develops a powder painting process to paint all of its products, thus reducing harmful hydrocarbon emissions and showing support for the environment. Bryant introduces it popular Free Gas & Free Electricity marketing campaign and develops the new BDP Company logo.
1984 – The Bryant "Pup" is re-introduced once again in an advertising campaign for Bryant boilers
1988 – Bryant launches one of its most successful advertising campaigns featuring Chuck Yeager, creating the slogan, "The Right Stuff to Last."
1996 – Bryant becomes the first company to manufacture residential high efficiency air conditioners utilizing environmentally-friendly R-410a refrigerant, Puron®.
1997 – Consumer Digest names Bryant's high efficiency 355 series furnace, 593 and 598 series air conditioners as a "Best Buy."
2000 – Bryant is again named a "Best Buy" in the high efficiency furnace and gas boiler categories.
2003 – Bryant introduces it Factory Authorized Dealer program and celebrates the shipment of over 2 million 90% AFUE furnaces since 1993.
2004 - Present – After 100 years, Bryant continues to offer well-engineered products, manufactured to the highest quality standards. Bryant still offers the most complete line of heating and cooling systems today that work to provide dependable comfort and energy savings. Source: Bryant History information excerpted from "Bryant Heating & Cooling Systems" and "Bryant – A Tradition of Comfort"