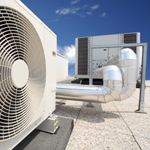 Commercial HVAC System Design, Installation, and Service:
Hauck Bros. operates a complete HVAC system design and installation department, performing hundreds of design and installation projects each year, for customers in industrial, manufacturing, religion, commercial property development, food service, institutional facilities and retail shopping centers.
These HVAC system design, installation and service departments are made up of:
A group of Sales Experts with a total of 70 years of HVAC industry experience.
A large, skilled and well-trained field workforce capable of performing all facets of HVAC installation and system design including related piping and ductwork fabrication work.
A large, skilled and well-trained service department capable of performing repairs and maintenance on all types of HVAC-related equipment, including large rooftop units, large hot water & steam boilers, light commercial chillers and process equipment.
Heating and Cooling
We are experienced in the installation and servicing of all types of commercial HVAC equipment, including:
Air Cleaning - Systems by Bryant, Honeywell, Aprilaire, Smog Hog, and Smoke Eater.
Air Conditioning - Bryant equipment available in rooftops, split systems, and air handlers for office, commercial & industrial buildings.
Heating - Warm air heating equipment by Bryant. Infrared tube heaters & unit heaters by Reznor and Infra-Save.
Boilers - Steam and hot water heat by Bryant, Weil McLain, and Triangle Tube.
Computer Room HVAC - Systems by Mitsubishi and Bryant. Wide range of packages from standard split systems to complete clean room applications.
Ventilation - Exhaust fans and make-up-air units from various manufacturers including direct or indirect-fired units from Reznor and PowrMatic.
Exhaust Systems - Design and installation of dust removal systems for machinery; truck exhaust systems by Monoxivent and Car-Mon.
Commercial Kitchen Hood Systems - Sizing and installation of Type I & Type II kitchen hoods by Larkin Industries, as well as exhaust and make-up-air fans by Acme.
Ductwork Fabrication (sheet metal) - Custom insulated and uninsulated galvanized ductwork up to 14 gauge. Ductwork custom made, along with complete installation. Some aluminum and stainless steel work, as well.